No other collegiate sport has changed as drastically in the past twenty years as Division I college basketball.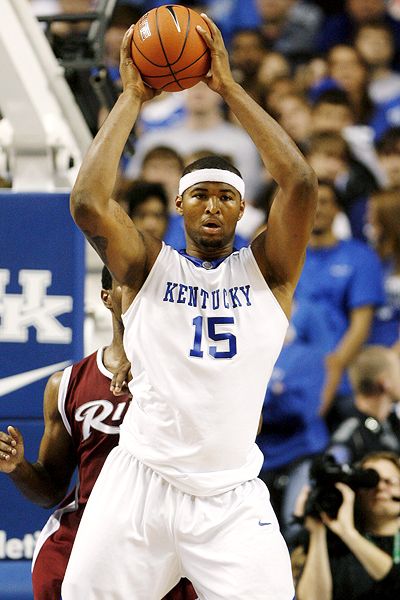 Image from ESPN
Top players in college basketball now rarely last four years, and any player with serious NBA prospects is almost guaranteed to leave school early. This means that for coaches of elite programs, bringing in a monster recruiting class usually only buys you a single year, maybe two, of those players being on your roster. With almost half of Kentucky's 2009-10 roster being built with one-and-done players, they are looking to fill in with talent in way they can, and right now that means bringing in 2010 big men.
There aren't a ton of top 2010 prospects even available at this point, and Kentucky has a major competitor for these big men in North Carolina, who lost sophomore power forward Ed Davis to the NBA draft and then suddenly lost two more power forwards when the Wear twins transferred. Now UK and UNC are scrambling to look at any and all big man prospects still available.
Unfortunately, there is another factor for these players, which is that in most cases, these players weren't seriously being recruited by either school until the past few weeks. Considering that all of these big men already had offers from multiple schools, they might take the new interest from elite schools as being somewhat "late to the party".
Both coaches, John Calipari for Kentucky and Roy Williams for North Carolina, are hoping that the allure of playing for a top, nationally recognized team will appeal to these big men, and also, if a player is a mature, balanced person, may understand that neither school had roster spots until recently.
Of course, there are schools that were already recruiting these players, and they also are going to continue to make a hard push to land players they've been courting before the "Big Boys" came along.
A quick look at some of the players now thrust into the national recruiting spotlight:
Kadeem Jack, a 6'9″ center from New York
Papa Samba Ndao, a 6'8″ PF/C who plays for Monteverde Academy in Florida and was at one time committed to Boston College.
Kevin Noreen, a 6'10" big man who also was released from his Boston College commitment
Marcus Thornton, a 6'7″ power forward who originally committed to Clemson but was released when coach Oliver Purnell left for DePaul.
In addition to incoming freshman, there are two transfer players looking for a new home:
Justin Knox a 6'9″ senior transfer from Alabama
Elroy Vargas, a 6'9″ sophomore transfer from Florida.