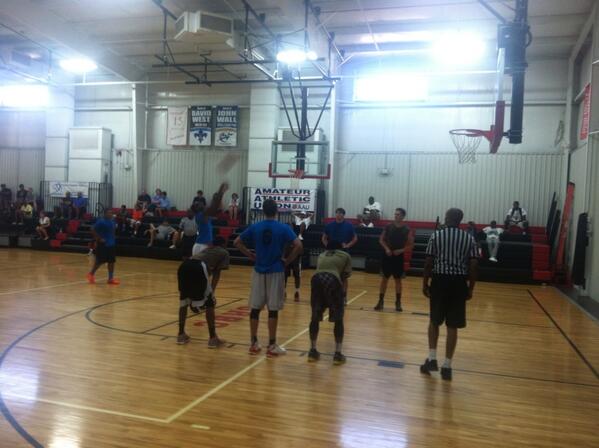 By James Blackburn
Garner Road Fall League Session 1
James Blackburn was able to take in the action at the JD Lewis Center in Raleigh, NC to scout the semifinals and championship of session 1 of the fall league that Garner Road runs annually. We have scouted the Garner Road Fall league now for 3 years and the league never disappoints as we have seen numerous college prospects play in an organized pick-up setting over the years.
Here are some of the top players he spotted in both games.
Jamel McCalister, 2015, 6'5", SF (Wake Forest HS)
Good slashing lefty who is also capable of leading the break with the ball. Versatile player who had several nice assists in the first game today. Defends and is unselfish. Can hit the perimeter shot but is inconsistent. Needs to improve ability to finish with his right hand.
Juan Munoz, 2016, 5'10", PG (Panther Creek)
Good lead PG who is smart and controls the tempo. Gets to his spots, which is usually the middle of the lane where he can finish, draw contact (Does so at a high rate), or shoot the pull-up. Good ball handler. Crafty guard who changes speeds well. Can finish in variety of ways and creates for others.
Logan Vosburg, 2017, 6'5", F (Cedar Ridge)
Played very well in both games today and he helped his team win the championship. Best rebounder that I saw today- terrific on the offensive glass. Led the league in tip-ins and garbage points in the paint. Runs rim to rim and has his hands ready. Keeps ball high on the catch and rebounds. Capable of hitting 3's and the open perimeter shots with feet set. Showcased some athleticism with a 1 hand dunk at end of game 2. Needs to continue to improve ball handling.
Jerome Robinson, 2015, 6'4", SG (Broughton HS)
Big time scoring wing guard. Capable of scoring in bunches from pull-ups, set 3's, and drives to the rim. Creates space well. Good shooter with solid mechanics. Capable of hitting tough shots. Defends too.
Will Walker, 2014, 6'2", G (Southeast Raleigh)
Was consistent throughout both games. Was a leader on the floor and was the player his team could go to when they needed a bucket. Very fast with the ball baseline to baseline. Is always going downhill attacking the rim. Athletic. Quick hands defensively. Underrated passer who also had several nice perfectly timed up-court passes. Gets to the FT line at a high rate. Quick 2nd jump.
Isaih Ridly, 2016, 6'2", SG (Middle Creek)
Smooth and creative player. Athletic and fluid. Moves with out the ball. Has a low-release on his perimeter shot.
David Reynolds, 2015, 6'6", SF (Ravenscroft)
Talented player on both ends who plays hard and would be good role player at next level. Athletic player who can finish over the rim. Capable of putting the ball on the floor and finishing drives. Has a nice floater for a player his size. Showed the ability to knock down the long ball. Smart. Good FT shooter.
Cory Gensler, 2016, 6'3", SG (Cary HS)
Excellent shooter- best set shooter in league. Automatic from the 3-point line- good mechanics. Good IQ. Underrated passer.
Darius Simmons, 2015, 5'10, G (Garner HS)
Quick combo guard. Excellent ball handler. Can create his own shot. Lefty. Hit six 3 pointers in the championship game- shot has slight hitch in it however. Showcased a nice runner in the lane. Can score the ball and really go. Athletic player who can dunk at his size.
Darius Moore, 2015, 5'9", G (Northwood Temple)
Really filled it up in the championship game and won the MVP as a result. No one on the opposing team could keep Moore in front of them, as he got to the rim at will. Scored multiple times on drives to the hoop. Size does not hinder his ability to finish as he has a strong upper body and is explosive. Tough player. Can hit the 3 and create his own shot. Highlight maker with the ball. Can score with contact and can finish with either hand. Competes on defense. Has a nice pull-up jumper and made his FT's. Will need to become more of a pure PG to make it at next level, but the kid can play.