By James Blackburn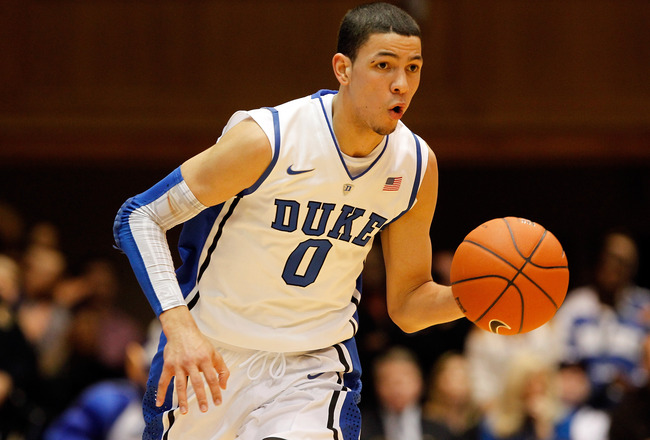 Photo Source: Bleacher Report
Game Scouted: Duke @ Wake Forest
Box Score
Duke wins 79-71
Scouting Report
---
Austin Rivers (G, 6'4", FR)
Stats
5-12 FG, 0-3 3pt, 0-1 FT, 4 reb, 2 assist, 3 PF, 3 TO, 10 TP
Strengths
Very quick first step- NBA ready. Showed versatility on defense tonight- matched up with Travis McKie (6'7, F) and guards in Chase Fischer, CJ Harris, and Chennault this game- smart move by Coach K- Rivers has done a great job neutralizing McKie by not allowing him to dribble drive. Plays the passing lanes well. Has a great understanding of spreading the court and court spacing- result of having Doc Rivers (NBA coach) as his dad. Very good in P/R situations with ball in hand- has ability to split double team and get to basket- has an effective floater and nice change of speed moves. Prolific scorer- can score in multiple ways and has the ability to hit tough shots over defense- very good offensive 1 on 1 player- with an array of finishing moves. Explosive going right. Tremendous ball handler- with a lightning quick crossover dribble. Great form on jump shot- struggled to a degree tonight with his shot- but has a quick release and solid form nonetheless. Confident in his game- wants the ball in his hands- makes highlights on the regular.
Weaknesses
Needs to do a better job of making contact with McKie when he is crashing boards. Needs to improve help defense- concerned about man too much. On the several occasions when he plays at the PG spot and brings ball down court, he tries to do to much at times and forces the issue and is TO prone in that regard- still has only one thing in mind when coming off ball screens and that is SHOOT- doesn't have a PG/pass mentality- not really a bad thing because his role on this Duke team is a scorer- but does cause him to force some shots- still must improve passing ability and vision and not have so much tunnel vision when driving to basket- one stat to back up this statement is the fact that coming into this game he has more TO's (66) then assist (62). More explosive going right then left- went to the left side corner 90% of time so he could drive middle going right- same thing with P/R plays- the pick is always set when he is on left side of floor- so he can come off pick going to his right- had a really nice right to left crossover move and scored with lay-in, but used his right hand- not going to work as much at next level. When he did go off screen from right side of floor- going left, he wasn't able to turn the corner as well and got bumped out. Struggles to get around/fight through screens- gets screened way too easy and is too content with switching- this goes with both on ball screens and off ball screens- not as much urgency to get back to man- comes out of stance. A little shaky from FT line- rushes it too much- shooting 65% for year- should be in 70's.
Overview
Leads to team in points per game(15.5), minutes played, and field goals made(149). He leads all ACC Freshman in ppg, mpg, made field goals, and made FT's. Seventh leading freshman scorer in country. Has been named ACC Rookie of the Week eight times this season- leads the conference. Entering this game averaging 15.5 ppg, 3.3 rpg, and 2.1 apg.
Played more off the ball than PG tonight- when he did bring ball up, Duke always ran him off a pick and put him in P/R situation. Clearly he is more comfortable playing the shooting guard then PG at this point in his career- will be on the short side playing the SG at NBA level- but his scoring, athleticism, and first step will transfer to pro game and its style. His game play in meant for the NBA and he will be an effective scorer at next level. His ability to guard an NBA caliber shooting guard was not seen tonight, as Wake does not have anyone that fits that profile, but he has the IQ, quick hands, and average lateral quickness to stay in front- still vulnerable to post ups by bigger guards and ability to adequately defend taller shooters b/c of size and will still have to improve lateral quickness to stay in front of NBA guards- still somewhat of a tweener being 6'4" playing the 2G- but this would not worry me much if I was an NBA GM. More of a highlight reel- and a little bit more style/flash than substance, but he plays his role well for this Duke team and that is to score. With that said he has a low FG%(44), lots of TO's, low assists numbers, low FT%, and plays a lot of minutes. He is an explosive scorer though and he is quick and athletic- all traits that will carry him to a good NBA career.