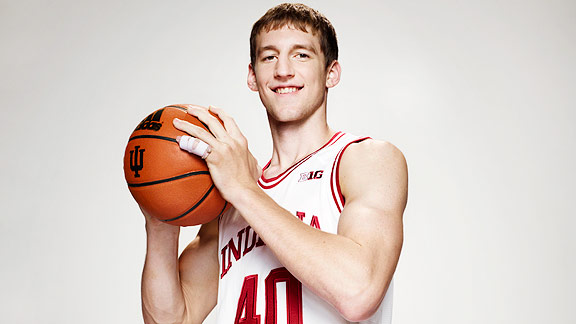 By James Blackburn
Game Scouted: Indiana @ Iowa
Indiana Wins 69-65
Cody Zeller (7'0", C, SO)
Stats
33 min, 7-12 FG, 5-5 FT, 10 reb, 1 st, 1 blk, 4 TO, 19 TP
Strengths
Cody is a highly skilled seven footer who runs the floor and rebounds the ball well. This generally sums up most of Cody skills in one sentence. Zeller's offensive skills were on full display this game as he showed the ability to put the ball on the floor and drive from the three point line to his left and finish with a lefty lay-up and showed the ability to be highly efficient in the post with his back to the basket. He has a nice back to the basket game and can score with either hand. He does a nice job of dipping his shoulders and getting low when in post and when driving from perimeter. Draws contact inside and he either scores or draws the foul when he is in post up situation in one on one situation. Excellent finisher- finishes at rim with 2 hands and has solid base- going off of 2 feet. Can finish with contact. Not afraid to fight for post position and he has good hands. Gets easy baskets by running the floor and being in the right position offensively. Did a nice job this game of ducking in on the post and securing position.
Takes advantage when going to the FT line. He was 5-5 from the line this game and is shooting over 70% from the charity stripe so far on the season. He has a high release and his shot looks fluid as he uses his legs and arms in rhythm. He didn't shoot any perimeter shots this game (outside of a FT), but with the form I saw on his FT's, I would venture to say he can shoot the midrange fairly well.
Zeller is a very good rebounder who finds his man and boxes out on the defensive end and attacks the offensive glass hard and stays active- hard to box out. He is averaging over 7 boards a game this year. He is also an underrated athlete. He had a big time 2-hand put back dunk attempt from practically outside of the lane that he missed- but was impressive. Does a good job tipping out balls on the offensive glass when he doesn't have position to grab it for himself.
Quick hands for a player of his size defensively. Is usually in good help position and knows where the ball is at all times. Does a good job of coming over and taking away the baseline. Did a good job in the second half of staying straight up and using 7' frame and wingspan to contest shots and not foul. Moves well enough as a big man to hedge screens- just tends to reach in at times when hedging when he doesn't need to. Showed the ability to slide his feet and defend on the perimeter- does a nice job of contesting shots on the perimeter as well.
Weaknesses
Has a slight build and he seemed to get pushed and posted up deep against some bigger and stronger Iowa players. Gambles a bit on defense – reaches in or lunges in for steals and this caused him to be out of position. Picked up a bad foul where he was reaching in near his own basket in the backcourt, should have been sprinting back defensively and was reaching in. Did not run the floor very hard to get back defensively- not near as hard as he does on offense. Needs to work on his post defense to a degree- definitely not an imposing defender. Sees the ball well, but loses man or player in his area at times.
There was not a lot to criticize on the offensive end from tonight's game. Not an impressive screener- not a bad screener, but not a great one either-inconsistent- sets some wide/hard screens and then sets some soft screens. Was neutralized most of the latter part of the second half when Iowa was playing a zone- struggled to find place in offense by roaming along the baseline and was not very involved. Didn't score for a span of 9 minutes where he should of demanded the ball more or found a way to contribute more offensively.
Overview
Solid bounce back game from Zeller after not getting the ball much at all in first half and picking up 2 fouls. Came out second half and scored 7 pts in first 3 minutes. Good teammate when on the bench- saw him standing up when out of game supporting and cheering on teammates and not sulking at end of bench when taken out. Even keeled when on the floor- no matter what is happening. Finished with more points and rebounds then his average this year. Even though he was credited with 4 turnovers this game in the box score, I think he was charged with a couple that were not his fault.
I believe he would be even better with a better PG on his team. Playing with an NBA PG will definitely help as he runs the floor well and gets solid post position. He is a skilled player who is also scrappy- took charges and dived on the floor for loose balls this game.
In my mind Zeller seems to be better fit as a role player at the next level. He is not a franchise player, and thus not worthy of a number 1 pick. He is a winner however and is a mobile 7' who is skilled on the offensive end and is a solid rebounder, all solid qualities which would make him top 5 pick worthy. I see him being able to contribute right away and possibly starting on some non-playoff teams.