By James Blackburn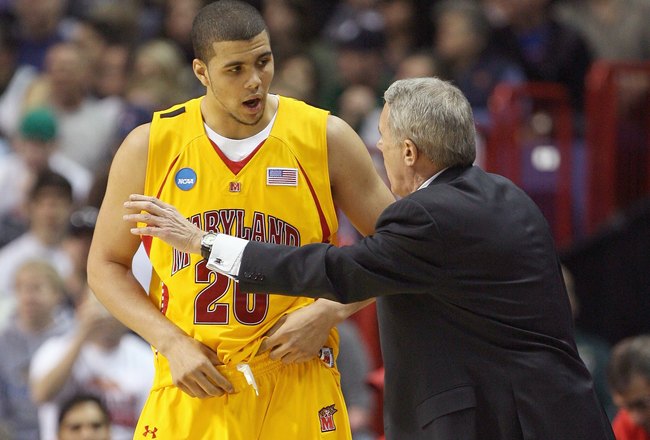 Maryland wins 74-55
Box Score
Game Recap/Thoughts
1st Half
Wake Forest shoots a lot of bad shots resulting in easy fast break buckets for Maryland. They are playing too much 1 on 1 and are standing around.
Wake had a tough time scoring in the first half, at one point they went over 3 minutes with out a field goal. They missed several easy shots close to the rim.
Wake Forest is turning the ball way too much and even is having trouble inbounding the ball.
Wake Forest showed some flashes of good defense in the 1st half- mostly playing a tight zone- but they had too many breakdowns.
Maryland showed good patience against the zone.
Maryland showed they can play half-court basketball against a zone and they have the ability to get out and run. Wake is sluggish in the half-court and is much better in transition.
2nd Half
Wake is passing the ball much better and playing better team basketball early in the 2nd half to cut the deficit to 6.
Wake is sloppy with the ball, does not value each possession.
Just when Wake goes on a good run, they shoot a bad shot, resulting in a lay-up for Maryland; a few minutes later, Maryland has a 20 point lead.
Maryland again did a good job against Wake's zone of going inside-out. Wake switched to a man-to-man defense towards the end of the game.
The officials let the players play this game, it was a physical game.
Wake lost because of turnovers and bad shots. Maryland won because they played good defense and got easy scores off of Wakes TO's.
Scouting Reports
Wake Forest
CJ Harris (G, 6'3", SO)
Strengths- Smart defender who possess a high basketball IQ. Poised player. Still making the transition from playing off the ball last year, to being the primary ball handler this year. He looked comfortable playing PG-leader on the floor, directing traffic and not turning the ball over. Is an improved passer from last year. Good FT shooter. Has a convincing shot fake.
Weaknesses- needs to get stronger finishing inside. I believe he needs to be more assertive offensively and make more plays.
Overview- CJ is one of the few bright spots on this young Wake Forest team this season. Has done a nice job developing into a PG, learning the position well from ex-Deac Ish Smith. I would compare his situation to current Bobcat PG, DJ Augustine. DJ had to make the switch to PG, after Felton left. Both players were/still are good set shooters from outside, but both are undersized and not athletic enough to play the 2 guard. CJ will be a good 4 year player at Wake. His future in the NBA is dependant on how well he can continue to be molded into a true 1.
J.T. Terrell (G, 6'3", FR)
Strengths- Athletic, high volume scorer. Can get to rim or shoot the pull up. Had a nice back door cut and finished with a creative up and under reverse in the first half. Ability to create own shot. Is a good shooter, but brings his FG% down because of his poor shot selection.
Weaknesses- Terrible shot selection. Settles for deep fade-aways and shoots ill-advised shots early in the shot clock. Shot 4-13 from field this game. Forces the issue on the break when there are no numbers. Is TO prone. Missed an open dunk in 2nd half.
Overview- Comes into Wake as a 4-Star prospect and a Top-50 talent, and has not lived up to that billing. He has pro potential because of his athleticism, but has a long way to go. Needs to develop into a PG; develop play making and passing skills. I would compare him to JR Smith. Both players have a fiery attitude and are explosive scorers, who either keep you in the game because of their scoring and shooting, or can lose the game, because of their poor decision making and bad shots.
Maryland
Jordan Williams (F, 6'10", SO)
Strengths- Strong, physical player. Great rebounder at both ends. Surprisingly well conditioned- averages over 31 minutes per game. Uses his big body well to draw fouls. Is only a 50% FT shooter for season, but looked very comfortable at the line tonight and displayed good form. Finished the night 9-14 from the stripe. Showed off a nice spin move going baseline in the 2nd half. Looks calm/under control though out game- very good body language. Shot 1 midrange shot late in the game- showed good mechanics- but he ran the baseline mainly against the zone and rarely flashed to the middle. Hard working player.
Weaknesses- Likes to go over his left shoulder and use right hand with back to basket. Needs to develop left hand. Needs to develop his overall defense- he just looks lazy at times on that end and took some possessions off. He struggled tonight against the taller and longer Carson Desrosiers. He has a tough time finishing over taller players because he does not get much lift on shots in low post. Also had a tough time defending Wake's taller players.
Overview- Williams is a double-double machine this season and eats rebounds for breakfast. At 6'10", he is the perfect size to play the PF position in the NBA. He would be smart to stay another year at Maryland to work on his defense and playing a little more on the perimeter. I think he would be a good second round sleeper in another year.
Cliff Tucker (G/F, 6'6", SR)
Strengths- Very good in transition. Is a good finisher and runs the floor well. He is an active defender and a good passer as well. Likes to go to the basket. Showed a nice in and out dribble move in transition and finished with a lay- up. Gets to the line at a high rate and is a good FT shooter. Athletic rebounder.
Weaknesses- Needs to improve shooting constancy and range. Also needs to continue to develop dribbling skills.
Overview- Came off the bench this game and led the team in minutes played and total points with 21. Is athletic enough and tall enough to be a 2 guard in the NBA, but lacks the jump shot and dribbling skills to make it in the NBA now. I think he will make an NBA summer league roster and will probably wind up playing overseas or in the D-League next season. Reminds me of ex- Wake Forest player, Trent Strickland, who now plays in the D-League.
****
Hey, if you like this kind of basketball coverage, do yourself a favor and sign up for the BasketballElite.com newsletter, which is free for basketball lovers.