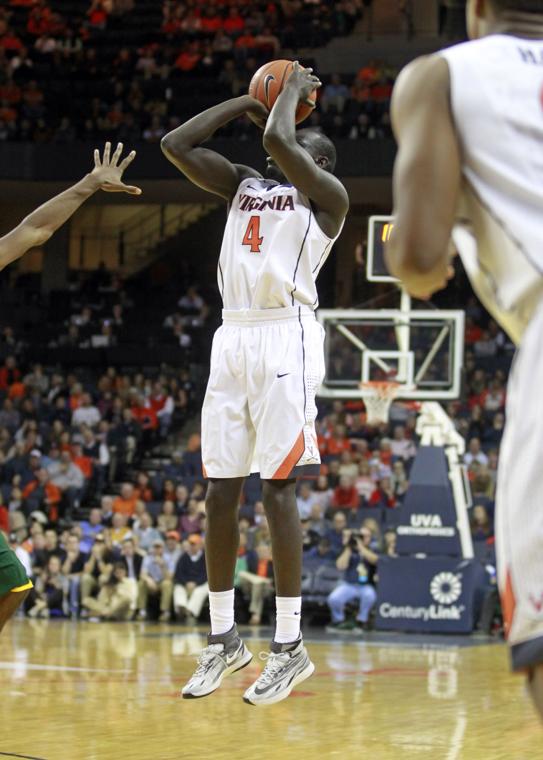 Game Scouted: Wake Forest vs Virginia
Virginia wins 70-34
Marial Shayok (G, 6'6″, FR)
Stats
26 min, 3-8 FG, 1-2 3 pt, 5 reb, 4 assists, 1 blk, 2 steals, 1 TO, 7 TP 
Strengths
Marial has good size for his position which I would say he is more of a combo guard at this stage. Poised guard who doesn't try to do too much. Good ball handler for his size. Makes good decisions and is a solid passer. I could see him making the transition to playing more on the ball then off the ball in the future.
Lacks great 1st step quickness, but changes well to make up for that- still able to get to paint.
Drives to rim and gets to paint with the idea of setting up teammates for easy shots. Also understands how to get open off the ball coming off of screens.
Can hit the corner 3, but release is a little slow, and he doesnt get great rotation or arc on ball- but can hit set 3's at a consistent rate (shooting close to 40% on the season while putting up about 1.5 a game).
I can see him becoming a lockdown on ball defender with his activity, energy, and length. Fights over top of screens and makes plays on this end. Already one of the best on-ball defenders for his position and class I have seen this year.
Has a high ceiling and is aggressive.
Weaknesses
While Shayok has good size for the guard position, he doesnt posses much quickness and this can hurt him when matched up with quicker defenders. He lacks a go-to scoring move and his jump shot off the dribble and on the move can be a little shaky. Shooting mechanics aren't bad at this stage but his release is slow and he will need to improve his ability to get off quality shots on his own.
Overview
Statistically Shayok doesnt jump off the page. The Canadian guard is averaging 3.9 ppg, 2 rpg, and 1.1 asp in 15 minutes a game. But he is a high usage player who contributes in multiple ways. His shooting numbers arent terrible, other then his FT % (56%), and his TO rate is low. If he can make the full time leap to the PG position, he is an intriguing player who is definitely a player NBA teams should monitor.