By Alex Kline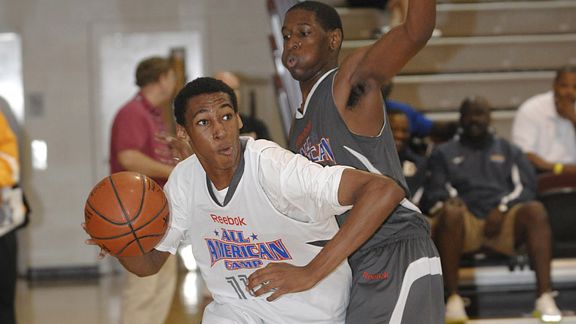 Photo Source: ESPN
Desmond Hubert exemplifies the meaning of a defensive presence. The 6-foot-9 big man frequently had double doubles during his high school games and even triple doubles at times. He blocks shots and is excellent on the boards. The improvement in his offensive game has paid off and turned him into a very notable player in the class of 2011. The rising senior is modest and is not trying to become a star. He takes the quiet path and does the dirty work at a small known school in New Jersey called New Egypt High School.
At New Egypt, Desmond has made the school known in the Garden State and has become a standout there. During the spring and summer, he runs with the New Jersey Playaz; one of the best squads in the country. Whether he rebounds and throws an outlet pass to Myles Davis '11 who hits a three or throws down a thunderous dunk of his own, you cannot stop the athleticism of Hubert.
Colleges have taken notice, as well! He has a list compiled of "Pittsburgh, Villanova, Ohio State, UConn, Georgia Tech, Duke, North Carolina, Maryland and Wake Forest." It is a safe bet that Hubert will most likely land in the Big East or ACC, but don't rule out the Buckeyes. Despite no offers from Duke or North Carolina yet, Desmond is confident that a good summer will propel him to that possibility.
Recently, he took an unofficial visit to another Big East school. Hubert visited Georgetown unofficially and enjoyed it. They have been a school that is on and off the list. Think about it for a minute; Hubert is a defensive presence and would fit in a slower paced offense. Georgetown is a team that comes to mind as they run a Princeton style offense. Either way, Hubert acknowledges that he will have a top five sometime in August and Villanova, as well as Pittsburgh will be in it. He could certainly be a great replacement for Nova's Taylor King who recently left the team. Desmond hopes to commit before the season is over.
Either way you look at it, Desmond Hubert's a threat. He can do a lot and his potential is sky high. Give it a few years and his name will be a lottery pick in the NBA Draft. For now, he'll just stick to rejecting opponents and their shots as he walks on with his swagger and his smile.
****
Hey, if you like this kind of basketball coverage, do yourself a favor and sign up for the BasketballElite.com newsletter, which is free for basketball lovers.