By Marcus Shockley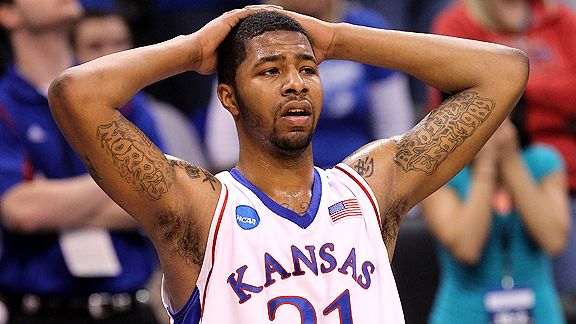 As the early season of college basketball, which has now crept from the end of November to the beginning, we take a look at the Kansas Jayhawks. Kansas lost a lot of talent after last season, but just as with the other powerhouse basketball schools, such as UNC, Duke and Kentucky, they still have a loaded roster coming in to the season. Watching them play against North Texas will give some insight into how they might fare this season, but just as with cream puff match ups that other schools have this early, it's not a completely accurate assessment. North Texas is not as weak of an opponent as some others, and may even be an NCAA tournament team, but does not have the depth at the post position that Kansas has.
Although the Jayhawks won't have guard Josh Selby for several games, they do have brothers Marcus and Markieff Morris, big men who both are considered legitimate contenders to land on an NBA roster. Currently, both would be projected as power forwards in the pros at 6'8″ and 6'9″ respectively, and both have the shooting range and versatility to play the position. They would likely either be considered late first rounders or early second round picks, but that's also taking into account that they are not expected to go pro early, and would play both this season and next before turning pro.
Both Markieff and Marcus can hit the pull up jumper, which makes them deadly on the secondary break. However, as easy as it is to lump both players together, they are two distinct players I'd like to focus on scouting them individually as much as possible.
Kansas also has guard Tyshawn Taylor running the point, and he looks poised to have a big season. He's running the point as the primary ballhandler until Selby returns.
Against North Texas, Kansas was running their offense with a lot of energy and building a lead behind the play of their big men. However, their defensive switching was confused several times in the first half, giving North Texas too many looks. Fortunately for Kansas, North Texas wasn't able to knock down open perimeter shots, but leaving open shooters outside the arc too many times will be problematic against better outside shooting teams.
With three active big men, being the Morris twins and sophomore Thomas Robinson, Kansas runs their offense in classic inside-out fashion, where the points come either in the paint or on kickouts back to the guards. Their guards are solid with several ball handlers, but without Selby, the are primarily a group of steady players without a lot of flash, other than Taylor's speed. Elijah Johnson is growing into the point guard role and has been spelling Taylor at times, and although he is only getting minutes in earnest for the first time, shows flashes of promise.
Kansas moves well without the ball and extremely effective in transition. Definitely a team with enough talent and experience to reach the Final Four, and possibly even make another run at the title for Bill Self.
Strengths
* Plenty of capable ball handlers even without Selby, overall steady but not a lot of flash
* Active big men in the Morris twins, both heavy scorers, shooters and play facing the basket
* Athletic wings who complement the overall transition game
Weaknesses
* Depth could be a factor against better competition.
* Additional consistent scoring options may be needed when the Morris twins can't score
Scouting Reports
Markieff Morris, 6'9″, PF, Kansas
Looks like a player who will be on a pro roster at some point in the future, can rebound effectively in the post and hit both the long range jumper and three pointer. A danger on the secondary break. Can post up but doesn't play above his size. Does look for his shot and an effective scorer in the post and as a shooter. Also is an excellent passing ability for a big man. Probably a late first round choice or early second rounder at this point, but certainly looks like an NBA level player. Works well with the drop step but is still working on a consistent hook shot.
Marcus Morris, 6'8″, PF, Kansas
A pro prospect, can hit the long range jumper and is very quick in the post. Quick enough to play the PF spot at the pro level, and has enough range to be effective. Can put the ball on the floor and play facing the basket, and is effective one-on-one when using that tactic. He has added some new post moves this season which take advantage of his quickness. Still projected as a potential late first rounder to early second rounder. Solid offensive player who looks for his shot. Needs to work on finishing in traffic against players his own size. Has great hands and can catch the ball on the move and in traffic down on the low block. Runs the floor very well on the break. Can hit the three consistently to the point he should not be left open outside the arc.
Tyshawn Taylor, 6'3″, PG, Kansas
Can handle and pass effectively and is a slashing guard who can find spots in the defense to score. Looks to pick his spots as to when he dashes into the lane. Very fast end-to-end with the ball in his hands. Has a great first step to get to the basket but needs to improve his finishing. Decent free throw shooter, but should probably be a little more consistent, especially as a guard. Needs to remain poised and in control in order to keep the team focused. Sometimes makes questionable decisions but the overall runs the team very effectively. Right now, probably not an NBA player without marked improvement but might be able to play internationally.
Brady Morningstar, 6'3″, PG/SG, Kansas
Morningstar looks like a natural PG but he can play and defend at more than one position.
Thomas Robinson, 6'9″, PF, Kansas
Greatly improved technique from the free throw line is paying off, adding another aspect to Robinson's game. He's also worked to add the range that the Morris brother have, and he was able to hit the eighteen foot jumper against North Texas. He's a player to watch as he matures, as he is only a sophomore, but his shooting touch looks greatly improved. Robinson still plays a little out of control at times. Is developing a quick drop step that's extremely effective.
Tyrel Reed, 6'3″, SG, Kansas
Tyrel can hit the option jumper and moves well without the ball, and he's considered the best shooter that Kansas has. A great free throw shooter.
Elijah Johnson, 6'2″, PG/SG, Kansas
Playing the backup point and athletic. Looks more like a natural SG but can play the point effectively. Can hit the outside shot. A player to keep an eye on.
****
Hey, if you like this kind of basketball coverage, do yourself a favor and sign up for the BasketballElite.com newsletter, which is free for basketball lovers.