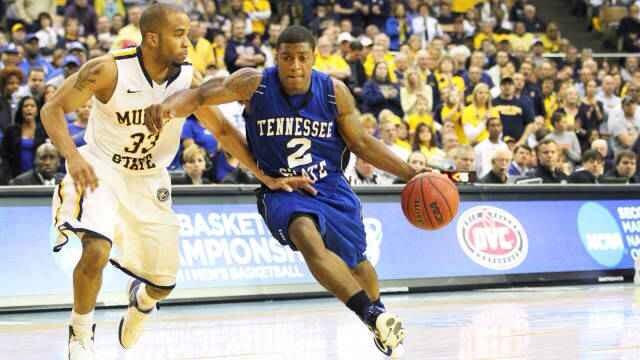 By: James Blackburn
Game Scouted: USC Upstate vs Tennessee State
Patrick Miller (G, 6'1", SR)
Stats
37 min, 4-13 FG, 0-4 3pt, 12-15 FT, 7 reb, 3 PF, 4 assist, 5 TO, 1 st, 20 TP
Strengths
Very strong build- huge upper and lower body. Could play running back w/ his build- very strong. Above average on-ball defender who keeps the ball in front of him.
Miller played both guard positions this game, but he has a PG mentality. Didn't attempt his 1st shot until 5 minutes into the game. Sees the floor very well and is highly unselfish-almost to a fault at times. Turned down several open shots to create and play makes for teammates. Gets to the rim at will, where he does a tremendous job of drawing defenders and finding shooters. Can play either guard position effectively.
Good slasher- can take contact and finish- contact does not affect him. Can turn the corner and get to the paint off the screen. Gets to the FT line at a high rate where he is an above average FT shooter- but could be better. Much better mid-range shooter then 3 pt shooter.
Well conditioned player.
Weaknesses
Would have liked to see him be more aggressive offensively at times this game- didn't get really aggressive until the past few minutes, where he made a couple of pull-ups and got to the FT line. Change of speed dribble could get better and has a tendency to drive to bad areas on the floor at times- resulting in TO's.
At his height, he needs to improve 3 pt shooting as that will open up driving lanes for himself and teammates.
Body language was OK, but showed disagreement w/ the officials more then once this game.
Overview
Averaging over 20 ppg entering this game along with 4 assist and was able to keep up those averages after the game today. Does a tremendous job of attacking the rim, getting to the FT line, and playmaking for his teammates. Would have higher assist numbers if he had more shooters on his team. Although his team is still searching for its still win on the season, Miller has done what he can- scoring, passing, and rebounding the ball.
Miller has had a terrific overall career at Tenn. State scoring over 1000 points and is leading the team in several statistical categories this year, including points and minutes. Shouldn't have a problem securing a PG job in Europe even at his size. He is explosive and is very strong and would be able to easily reach the painted area w/ his speed.
—
Want more? You can follow James Blackburn on Twitter.