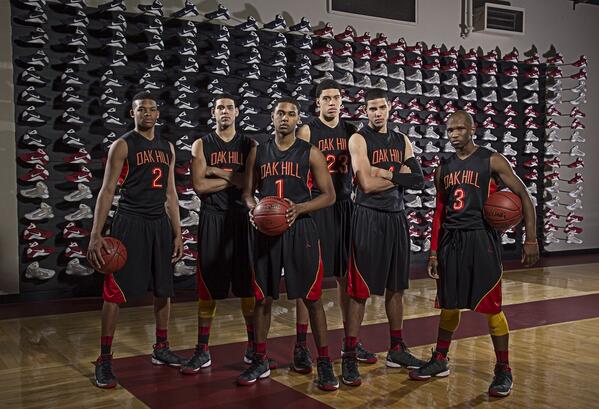 National powerhouse Oak Hill Academy visited New Hope Christian on Tuesday night. There was a good crowd on hand to take in the action, including multiple college coaches. Oak Hill controlled the game from the start and led by double-digits at the half. New Hope kept the game in reach in the third, but Oak Hill ultimately pulled out the victory 84-65 to get the road win. Oak Hill was led by Virginia commit B.J. Stith with 25 pts and NC State commit Caleb Martin with 18 pts. New Hope was led by senior guard Ryan Johnson with a game high 26 points. Here are some reports from a few of the standout players in the game.
New Hope Christian
Ryan Johnson (2014, SG, 6'5")
Ryan was arguably the best shooter on the court tonight. He has range out to the college 3-pt line and has a smooth stroke. Has good length. Average athlete and quickness. Better playmaker and passer then give credit for. Solid feel for the game. Needs to improve ability to finish in traffic and his play on the defensive end. Still an unsigned SR who most LM schools should check out.
Oak Hill Academy
Caleb Martin (2014, G/F, 6'6")
Terrific overall game tonight from Martin. He was all over the floor scoring, passing, defending, and rebounding. Versatile threat who showed an improved 1st step and good consistency from the 3-pt line. Can handle the ball and lead the break. High IQ player. Had multiple above the rim finishes tonight as well. NC State is a getting a good one.
B.J. Stith (2014, G, 6'5")
Was Oak Hill's best player tonight. High motor wing who rebounds the ball well for his size. Strong upper body and is a super athlete- explosive. Tremendous shooter who has a high release. Can shoot the midrange and the 3. Good defender who can defend several positions. Needs to continue to improve ball handling and ability to make plays out of P/R situations. Committed to UVA.
Terrence Phillips (2015, PG, 5'11")
Pure PG who is equally effective in both the half-court and in transition. Good quickness and speed w/ the ball in the open court. Showed he could hit the open perimeter shot if the defender goes under the ball screen. Was able create for others and did a great job of playmaking. Excellent on-ball defender who moved his feet well. D1 caliber guard.
Rodney Miller (2016, C, 6'11")
True back to the basket big who has a great upside. Good frame that will be able to add weight. Has a soft touch. Defends with out fouling and using size and length. Has a soft touch. Solid rebounder.
—
Want more scouting insights? Follow James Blackburn on Twitter, right now!