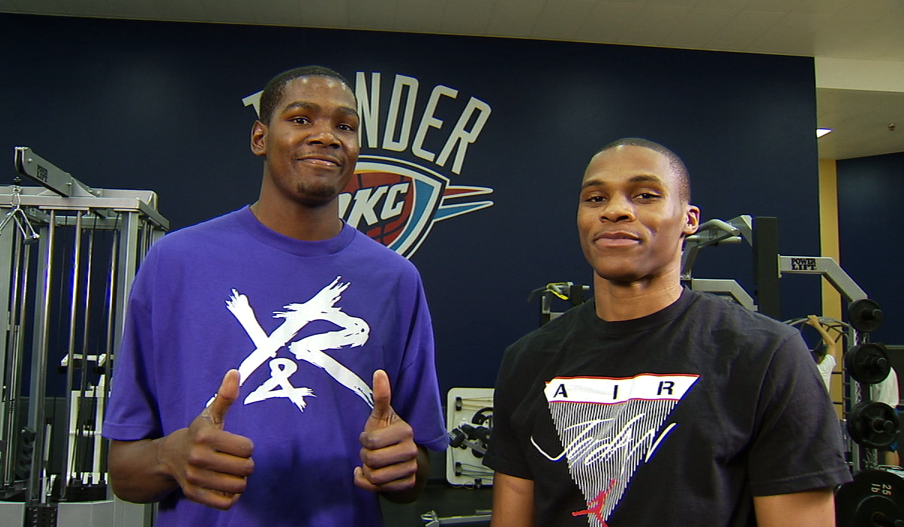 Image Source: ESPN
By James Blackburn
Game 3- 5:00 game
Boston (0-1) vs. OKC (1-0)
Thunder win 87-82
Box Score
GAME NOTES
• Boston was very patient at the beginning of the game, not forcing shots and sharing the ball.
• Boston played good team defense and closed out on the shooters.
• The Thunder brought Harden, White, Ibaka, Weaver, and Maynor with them- went from being the youngest team in the NBA to the most experienced team at Summer League.
• The Thunder started off sluggish, but came out in the second half with a bang- and eventually just wore Boston out- with its size and athleticism.
• Kevin Durant was present, sitting on the Thunder bench.
Scouting Reports
Celtics
Luke Harangody ( 27 min., 9-13 FG, 4-6 3 pt., 4 reb., 1 blk., 23 tp)- Very solid showing from the rookie out of Notre Dame. Luke proved a lot of skeptics wrong in this game. Luke is an excellent 3 pt shooter, with a quick release and great form. He plays good defense too, always displaying a hand in the shooters face. He also looked a lot trimmer and cut from his college days. Luke is generously listed at 6'8", but is more like 6'6". The Celtics might want to think about moving him to play SF, as Pierce backup. He sets solid screens and is a good P and Pop guy. Has a fluid jumper, gets his feet set and doesn't look hurried. Keeps ball high on rebounds. Displayed the ability to put the ball on the floor and draw the foul or score. Good P and R defense. Not very athletic but had great block on Mullins in 4th quarter. Will play hard the entire game.
Jaycee Carroll ( 29 min., 6-16 FG, 1-4 3pt, 2 reb., 4 ass, 13 tp)- Carroll out of Utah State had a good outing. He is a great shooter who can stroke it from anywhere on the court. He can also make plays off the dribble. He is a pest on defense who will get in you and closeout well.
Thunder
Eric Maynor (33 min, 7-13 FG, 1-1 3pt, 3 reb, 5 ass, 15 tp)- Eric may have had the best performance of a PG all day. Showed the entire package: great shooter, good passer, controlled the game and ran the offense. He showed good body control in the air, with the ability to finish in traffic. Has a nice floater and is a crafty player once he reaches the paint. Has a nice right to left crossover, that is extremely quick.
Serge Ibaka( 17 min., 2-5 FG, 5 reb., 6 tp)- Very strong and physical player. Got hurt in second half and did not return. Is a very good defender, who is a presence in the pain with good shot blocking skills. Has developed a nice sweeping hook going to his right.
Byron Mullens ( 33 min., 6-12 FG, 12-15 FT, 7 reb., 24 tp)- The Celtics did not have an answer for Mullens in the P and R. Mullens, a second year player out of Ohio State, made a living this game at the FT line, where he took advantage hitting 12 FT. Does a great job rolling to the basket, catching the ball, gathering himself and attacking the basket, where he got fouled repeatedly. Very good FT shooter for big man. Athletic player, who is also a solid rebounder.
James Harden (34 min., 2-6 FG, 15-18 FT,3 reb, 2 st, 19 tp)- Harden started off the game deferring to teammates and trying to get everyone involved, but cam out the second half firing and taking command of the game. The Thunder put him in a lot of P and R situations with Mullens with him as the ball handler, which the Celtics did not have an answer for. Harden is very athletic and strong. He is great at attacking the basket, where he can finish with contact. One time he tried to dunk on Harangody- all Luke could do was push him with 2 hands. Is creative and composed with ball in his hands, good things would happen when he would touch it. Had a game saving block on jump shot at end of game.