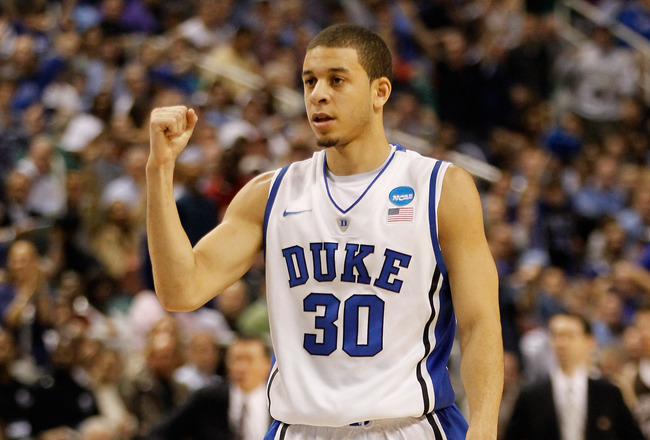 By James Blackburn
Game Scouted: Duke @ Wake Forest
Duke Wins 75-70
Seth Curry (6'2", G, SR)
Stats
7-17 FG, 1-6 3 pt FG, 6-7 FT, 2 reb, 2 assist, 1 TO, 1 blk, 21 TP
Strengths
Came out and really impacted the game on the defensive end, which I did not expect. Defended well overall this game, as he was active in the passing lanes, took some charges as the help defender, moved his feet, and even blocked a jump shot. Did a decent job of staying in front of C.J. Harris for Wake and contesting shots (C.J. was not 100% tonight and looked hampered with the goggles he has been wearing after an eye injury sustained against NC State). Most of Curry's defensive contributions did not show up in the box score tonight, but he held C.J. to 4-12 shooting from the field and was active. Did not take any plays off on that end of the floor tonight.
Offensively, he was looking for his shot early on. He showed the ability to create his own shot by pulling up on the perimeter and had several drives to the basket as well, that he finished with lay-ups. Quick first step, better then I had thought coming in. Tremendous overall shooter, who is shooting better then 40 % from the field and from three, and is a plus 80% FT shooter for his career. Has a great release, rotation, follow through, he squares up nicely and is on balance and he can get it off against good defense with a quick release and by shooting the ball in rhythm. He showed he could hit shots from catch and shoot situations, coming off screens, off the dribble, and with feet set. When he misses, he follows his shot, and his misses are usually straight and off the back of the rim. Not just a 3 point shooter- hit several Rip Hamilton like mid range pull-ups from pin-down screens. Although he didn't hit his first 3 until 2:45 remaining in the game after missing his previous 5 attempts from deep, he had the confidence to hit a huge 3 to put his team ahead at a critical part of the game.
Wouldn't classify him as a playmaker, but he did show nice touch on an alley-oop pass to Plumlee when help came on a drive to the basket. Solid frame- looks bigger in the arms then the last year- is stronger.
Weaknesses
Although it was not a big problem for Curry in this game, the fact that he is an under-the-rim type player with average athleticism at best, is going to hurt his ability to finish inside at the next level, similarly to what Duke alum Austin Rivers is experiencing now. He needs to improve his ball handling skills overall, is not capable at this point to advance the ball with pressure defense. Although he is a decent passer, he is not is not a PG and is not a playmaker, needs to develop in both of these areas. Questions then arise about what position he will play and defend at the next level.
Defensively he is content to switch all off the ball screens, which leads to him having to guard a bigger player- not going to work at next level. He did a decent job of staying in front of C.J. Harris this game, but C.J. was clearly not 100 % and I question his ability to defend NBA caliber PG's.
Struggled shooting the three ball this game-missing his first 5 attempts from beyond the arc, but is a good shooter who Wake had to respect the entire game.
Overview
Curry struggled with his 3-point shot this game, but he played very well overall in my opinion, and was able to show off other parts of his game besides shooting because the Wake defenders ran him off the line. Played well despite suffering an ankle injury a couple weeks back against NC State. Curry did a solid job on the defensive end and his mistakes were minimal. Is having a career best year at Duke, averaging 16 ppg, which is second on team in scoring, and has helped Duke to 18-2 record. I believe he would be a solid pick for a team late in the second round. He will have trouble defending quicker PG's and bigger SG's but at worst he could be a knock down set shooter, and nearly every team could use one of those.
Although Curry is an undersized shooting guard with average speed and athleticism, all legit NBA concerns, he does bring consistent perimeter shooting, he comes from a good program, and he is going to work hard to improve every year, just like his brother did. He is a player you don't have to worry about, as he is a high character guy, comes from a great family, and had a solid, consistent career for Duke for the past couple of years, after shining at Liberty as a freshman.
—
James Blackburn is the Director of Scouting for Basketball Elite and shares his reports with several NBA teams. You can follow James on Twitter right this second.