By Alex Kline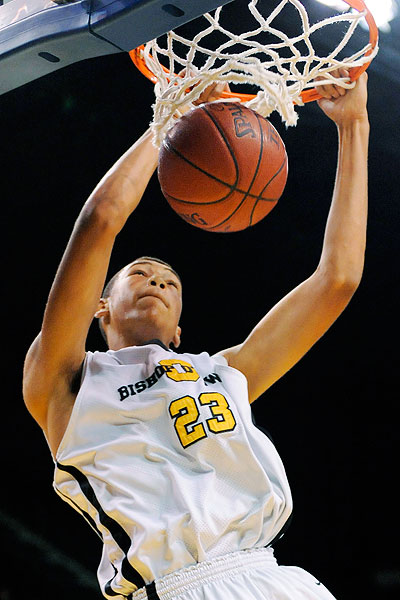 Image from ESPN
Brandon Ashley isn't your typical sophomore in high school. Standing at 6-foot-8, this young, athletic man is developing his game for the next level. At Bishop O'Dowd in California, Ashley is striving at a very young age.
While playing with both Bishop O'Dowd, as well as his AAU team the Oakland Soldiers, Brandon is bound for a big summer. Slam.com ranks him as the seventh best prospect in the class of 2012. This summer he will attend events at the Nike Hoop Jamboree in St. Louis, Peach Jam and Las Vegas. Along with that, Ashley is on the US National team and will attend tryouts very soon.
While his game is still developing, Ashley competes with the ranks of big men in his class like Jamesville-Dewitt's DaJuan Coleman and Andre Drummond of St. Thomas Moore. While Ashley has not received as much hype as he deserves he will get there soon. His game is progressing along the way. "My game is developing right now," said the 6'8 Power Forward. "I have a pretty good inside game and am currently working on my outside game. I have a solid jumper and my handle is progressing." It may be progressing but colleges are already taking note.
That being said, Ashley is drawing plenty of interest from different schools. West Coast schools have primarily noticed his abilities so far. "California, Washington, Arizona, UCLA and Stanford have offered me," said the California native. "There are no early favorites right now. I am still open to all schools." Ashley is taking the recruiting process slow and is in no hurry whatsoever. "I haven't really visited any schools yet. I have been in Stanford and Cal's gyms but that is about it so far." Look for more offers to roll in this summer for Brandon.
On a final interesting note, North Carolina recently got in contact with Brandon and expressed some interest in him. "UNC will always be a great school but at the moment they aren't any higher on my list than any other school," stated Ashley.
From the looks of it, Brandon will take his recruitment slowly. He has a long way to go in developing his game to the next level but he is bound for greatness sometime soon. Check him out on the west coast sometime and for people on the east coast he will be at the Peach Jam ready to do work!
This story originally appeared on ACCBasketballRecruiting.com
****
Hey, if you like this kind of basketball coverage, do yourself a favor and sign up for the BasketballElite.com newsletter, which is free for basketball lovers.