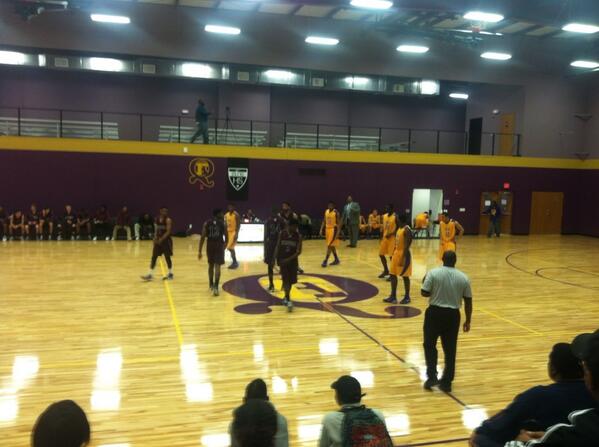 12/20/13
United Faith visited QEA for an early Friday night game. This one wasn't close from the start as QEA used pressure defense to jump out to a 16 to 6 1st quarter lead. The Pharaohs didn't look back and eventually got the 64-40 win.
Here are some of the standout players for both teams.
United Faith
Ty Gadsden (6'0", PG, 2016)
Was the most important player for United Faith tonight. QEA started denying him the ball starting in 2nd quarter. The lefty PG is quick and speedy in the open floor and has the ball on a string. He is a good passer who dribbles with his eyes up. He is poised and does not get rattled. Ty is a leader and an extension of the coach. Has potential to be a D1 guard.
Nehemiah Mabson (6'6", PF, 2014)
Mabson struggled tonight for the most part, but is still a solid prospect. He showed decent ball handling abilities on the perimeter, but is still at his best on the block. Strong and physical player who is a tweener. Is unselfish and is an excellent rebounder. Has nice touch and is scrappy. Should be on most LM schools list.
Benjamin Bennett (6'4", SF, 2015)
Good defensive player who has active hands. Can knock down the 3 and has a high release.
Ben Eke (6'7", C, 2016)
Young and growing player with potential. Good length.
Quality Education
Jerrelle DeBerry (6'5", SF, 2014)
Impressive game for DeBerry as he came off the bench to score 10 points in the win. Excellent athlete who had a huge poster dunk with the foul tonight. Very strong upper body. Already holds a couple of D1 offers and should probably have a few more.
Marsellis Purvis (6'6", F, 2016)
It's hard to believe that Purvis is only a sophomore in HS, because he is a beast inside the paint. He loves physical play and is very strong. He is an unselfish true back to the basket player who plays much bigger than 6'6". He rebounds the ball well with 2 hands and showed he could defend on the perimeter with some surprisingly good lateral quickness. Has solid footwork and finishes inside. MM+ D1 caliber prospect.
D'Marques Tyson (6'5", SG, 2014)
Best shooter in this game and one of the best shooters I have seen this year at the HS level. Has a D1 shooting stroke. Can hit three's as well as the mid-range. Doesn't force shots and defends as well. Had 10 pts tonight. LM target.
Ibrahima Diallo (6'10", C, 2014)
Mobile big man who can finish above the rim. Controlled the defensive boards tonight. A player who D1 schools should familiarize themselves with if they aren't already.