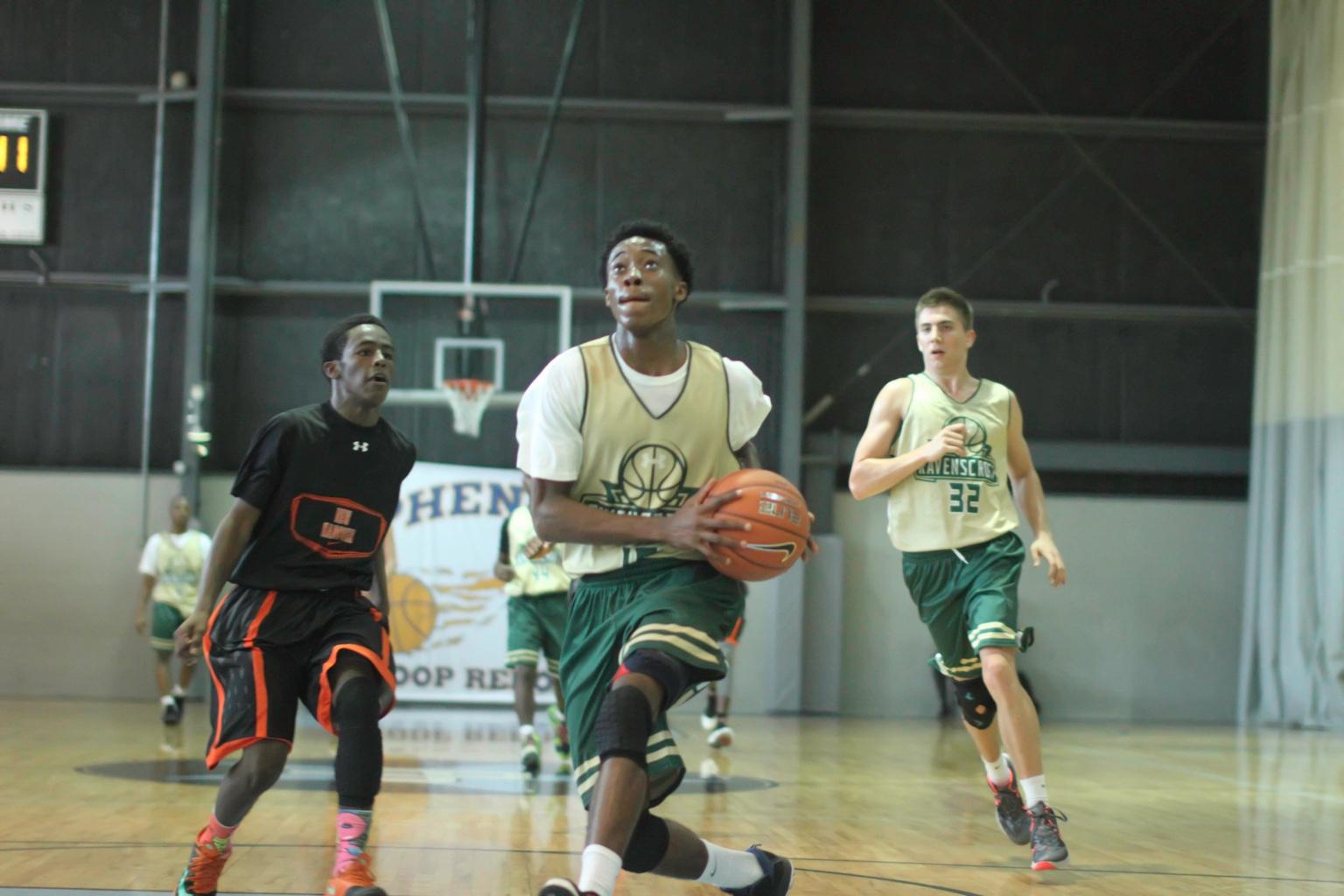 Michael Okauru showed a flair for scoring at the Phenom High School Jamboree
I was able to attend the Phenom Hoop High School Jamboree on Saturday held at Proehlific Park in Greensboro, NC. 24 high school teams from around the region attended the event which was well attended by college coaches of every division. I was able to see see just about every team during my time spent there and my reports on some of the top performers are below.
2015
---
Cecil Moore
(5'10", Calvary Baptist)
Super quick guard who can get to paint. Defends the ball baseline to baseline. Needs to improve playmaking ability but is a solid guard.
Xavier Hill-Mais
(6'8″, Greensboro Page)
One of the strongest bigs in attendance today. Great post defender who protects rim without fouling. Tough nosed and physical.
Dusan Kovacevic
(6'10", Rabun Gap)
Was the top player in attendance today in my opinion. Is a point forward and ran the PG position for most of the day. Is in great shape and played almost every minute in all 3 games and was the number one offensive weapon. Has a great feel for the game and is highly skilled. Reminds me of Joe Ingles who played for Team Australia this summer in the FIBA World Cup. Is vocal and a floor leader. Solid ball handler who can also knock down open 3's. Unselfish. Is from Serbia and played for the Junior National team this past summer. Utilizes pump fakes and can score the ball when needed. Not afraid of contact. Needs to improve quickness and explosion. Already holds several D1 offers and is a HM player in my opinion.
Luka Majstorovic
(6'9″, Rabun Gap)
Back to the basket C who has great hands and footwork. Is great in the high post or on the block. Has a soft touch and showed off several post moves including a nice turn around. Solid defensive rebounder and made several terrific outlet passes. Reminds me of Kennedy Meeks in several ways. Very good passer. Strong and big bodied post who has lost weight since the summer. Not very athletic but moves well for his size. LM/MM schools should be recruiting him hard.
Christian Adams
(6'3″, Calvary Baptist)
The Coastal Carolina commit looked solid on both ends all day. Lefty wing with good size and has the ability to create for himself and others. Can score in multiple ways.
Kentrell Barkley
(6'6″, 2015)
The ECU commit was all over the floor today. Love his energy and his motor. Uses his athleticism to his advantage. Solid rebounder who can score above the rim.
Rob Brown
(6'8″, Millbrook HS)
Mobile big who has tremendous strength and good size. Has solid upside. Would be a steal for some D2 teams.
Marko Tomic
(6'8″, Freedom Academy)
Stretch 4 who has a terrific stroke from 3-pt line. Skilled player who can pass, dribble, and shoot. Unselfish player who has a great feel for the game. Is from Serbia. LM schools should be all over this kid.
Corey Hanes
(6'5″, Forsyth Country Day)
Hybrid forward who looks more explosive then the last time I saw him. Can score above the rim and create own offense from perimeter or in post. Needs to improve consistency, but any D2/LM schools still needing a 4 man, they should give him a look.
Peter Parkitny
(6'10", Calvary Baptist)
Mobile big who can shoot the midrange with consistency. Shows solid effort and is mobile. Would be effective in the right system. Hasnt been the states long and I expect his recruitment to pick up soon. D2/LM prospect.
James Dickey
(6'9″, Word of God)
Best shot blocker I saw on the day. Uses his length, timing, and athleticism to alter and block shots. Runs the floor well. Unselfish player who has upside. Can hit the 3 and has good arc on his shot. Needs to add weight. Dickey has committed to UNCG.
Darius Moore
(5'10", Greensboro Day)
Smooth and unselfish. One of the best pure PGs at the event. Poised floor general who is a terrific passer. Scoring ability has improved. Has a great feel for the game and has good creativity around the rim. Will be heading to PC to play.
Peter Agba
(6'6″, Greensboro Day)
Always will be a big fan of Agba game. Plays much bigger then 6'6″ because of a great frame and a never ending motor. Tremendous rebounder and finisher inside.
2016
---
Kevin Quinn
(6'4″, Virginia Episcopal)
Underrated player who does the little things to help a team win. Elite shooter who can also score at the rim. College prospect without a doubt.
Delante Jones
(6'5″, Virginia Episcopal)
Loved this kids game. Super bouncy wing who defends and makes plays on both ends. American University got a steal with this kid.
Sacha Killeya- Jones
(6'10", Virginia Epsicopal)
One of the top bigs at the event today. Mobile and athletic. Can block shots and finish inside. Is receiving interest from multiple HM schools.
Justice Kithcart
(6'2″, Virginia Epsicopal)
Shifty, quick, and athletic PG who can score with contact and get to rim at will.
Greyson Kelley (6'0″, North Raleigh Christian)
Plays extremely hard. Gives 100% energy every play on both ends. Attacks the rim hard. D2 prospect.
Jay Huff
(6'10", Voyager Academy)
Good shot blocking mobile big man. Great length. Needs to improve conditioning and strength. Can stretch the floor with a solid looking stroke out to 3 and a soft touch. MM prospect.
Casey Penland
(6'1″, High Point Christian)
Athletic guard who is smooth and attacks the rim hard. Can finish at rim in creative ways.
Lawrence Williams
(6'7″, New Hanover HS)
Bouncy and long player with potential.
Michael Steward
(6'5″, Asheville Christian Academy)
Showed good patience in the post and some solid back to basket moves. Has a soft shooting touch out to 15′. Needs to add some muscle but has potential.
Jordan Shepard
(6'2″, Asheville Christian Academy)
One of the top players on his team and one of the best guards I saw today. Ball pressure doesn't effect him. Poised and patient PG. Smooth and athletic player who can create his own shot. D1 prospect.
2017
---
Michael Okauru
(6'4′, Ravenscroft HS)
Terrific playmaker with solid court vision especially in transition. Capable of getting to the paint. High energy player on the offensive ends. Capable of becoming a solid defender because of athleticism, but needs to be more consistent on this sid of the floor. Better on the ball defender at this point, lost his man more then once when his man didn't have the ball. D1 prospect at the guard spot.
JP Moorman
(6'5″, Greensboro Day)
Can catch and finish on the run. Runs the floor well and defends.
Kameron Langley
(6'0″, Southwest Guilford HS)
Kameron was another PG who stood out to me today as someone who was able to use his speed in the open court and also get to the rim. Excellent in a high tempo system. Can finish with contact.
Todd Smith
(6'4″, 2017)
Terrific athlete who had several highlight finishes today. Good shot blocker for size.
Douglas Elks
(6'4″, Ravenscroft HS)
True PG who plays with poise. High IQ player who is unselfish and willing to make extra pass. Moves feet well on defense and makes team better while on floor. Is an underrated player in my opinion and is someone D1 schools should begin to track.
Kaleb Hunter
(6'3″, North Raleigh Christian)
Active lefty who is a good wing defender. Solid across the board.
2018
---
Drew Tazuma
(6'4″, Knightdale HS)
High energy player who impacts the game on both ends. Love his motor and his potential. Mobile and athletic.
—
James Blackburn is the Director of Scouting for Basketball Elite and Power to Win Sports. You can keep up with James on Twitter @JamesJunior21