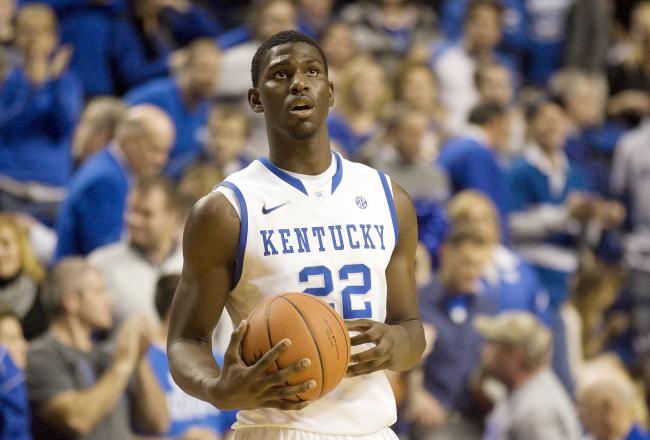 By James Blackburn
Game Scouted: Missouri vs. Kentucky
Kentucky wins 90-83 in OT
Alex Poythress (6'8", F, FR)
Stats
40 min, 8-10 FG, 1-1 3 pt FG, 4-6 FT, 7 reb, 2 assists, 1 blk, 21 pts
Strengths
The first thing to notice about Poythress is his combination of size, strength, and athleticism as a SF in college. Has seemed to have an extra bounce in his step tonight as he played perhaps the best game of his young career. He is a good rebounder, and was very active crashing the offensive boards this game. He doesn't stand and watch on perimeter and crashes the boards on every shot. He also showed the capability of rebounding ball and pushing it ahead with the dribble. Offensively he showed a jump hook over left shoulder and an advanced mid-post game. Showed the ability to face up and score with a variety of moves from 18' and in. Loves to score over left shoulder. Was more aggressive offensively in the second half. Athletic and plays above the rim. Capable of hitting the open 3 w/ his feet set, shot had good arc. I like his hustle and his attitude on the court. Unselfish player. Got to the FT line numerous times this game and took advantage. FT stroke looks good- would like to see him use more of his legs- but has good arc and form looks good- is shooting over 70% from stripe for the year. Hit a pair of big FT's with under a minute in OT under pressure. Good footwork- does a nice job of screening, then turning and sealing his man in the post, where he was able to secure and maintain position.
Defensively, I was impressed with his understanding of position and effort as a freshman. He did a good job of shading screens and sprints back on defense. Capable of defending on the perimeter- showed the ability to move his feet and contest shots. Understands positioning off the ball and help defense. Impressed with not only his motor but his conditioning. For a player of his size, to be able to play the number of minutes he plays and perform at the level he does on the floor for those minutes, is good. Had several blocks this game, and made a game-saving block in the end of regulation to block lay-up attempt. High motor player with good upside.
Weaknesses
On first possession of game, a set was run where Alex would receive the ball at the nail at top of key. Instead of digging in and getting deep possession, he was v-cut in and popped out where he caught the ball outside the 3-point line. Took some poor angles a couple of times defending quicker players on the perimeter- but did a solid job defending for most part this game. Has a tendency to jump out of control at pump fakes and over commit on the perimeter. Invisible for stretches and struggled to score besides post ups and offensive rebounds for most of the first half. Needs to improve his ball handling skills especially the ability to put the ball on the floor and attack the basket. I believe he is capable to go in straight line drives, but cant change directions and speeds well like he would have to do to play SF at next level. Didn't drive the ball one time from beyond the FT line. Poor hands. Had possessions where he screened well and then had other possessions where he didn't head hunt and set poor screens. Needs to improve his left hand- favors his right hand in post up opportunities. Gets a little sloppy with the ball at times. Did a nice job of protecting the ball tonight, but is averaging 2.3 turnovers per game this season, which is high for a SF/PF.
Overview
Terrific game tonight from the freshman forward. Played more in the paint on both ends of the floor this game because of his size and his size advantage over opponents SF. If Kentucky's guard play was better, I think he would of gotten the ball more in the first half.
Entered game averaging 11.5 ppg and 6.1 rpg. Consistency on the offensive end is a concern. He has scored 20 points or more 5 times this season, and has had double digits 14 times this year. But he has had 9 points or fewer in 12 of the other games this year. This can be contributed to the fact that he is a freshman and him having the tendency to go invisible offensively for stretches. If he can be aggressive offensively and play like he did tonight every night, he would be a sure fire lottery pick in my opinion and deservingly so. He needs to improve his left hand and his ball handling abilities, but NBA teams will love his mix of size, strength, and athleticism for a SF, his ability to defend, knock down the open 3, and his rebounding skills. All of these skills should translate well to the next level. He has a high ceiling and will only get better.
—
James Blackburn is the Director of Scouting for Basketball Elite and scouts high school, college and pro prospects. You can follow James on Twitter right this second.